Rajko Grlić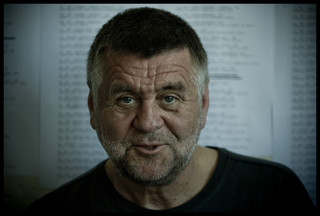 Rajko Grlić was born in 1947 in Zagreb, Croatia and graduated in film directing at FAMU in Prague, Czech Republic 1971.
Theatrical feature films - as director and scriptwriter:
2016 Ustav Republike Hrvatske (The Constitution)
2010 Neka ostane među nama (Just Between Us)
2006 Karaula (Border Post)
2002 Josephine
2001 Novo novo vrijeme (Who Wants To Be A President) (documentary, co-director)
1991 Čaruga (Charuga)
1989 That Summer of White Roses
1986 Za sreću je potrebno troje (Three For Happiness)
1984 U raljama života (In the Jaws of Life)
1981 Samo jednom se ljubi (You Love Only Once)
1978 Bravo Maestro
1974 Kud puklo da puklo (If It Kills Me)
These films were shown in cinemas across all five continents, they were included in competition programmes of leading world festivals, including Cannes, and they have received numerous international awards.
He has worked on five feature films as a scriptwriter and on television series Grlom u jagode (Reckless Years). He has produced five feature films, wrote and directed 16 short films and 14 documentaries for television.
He wrote, directed and produced How to Make Your Movie; An Interactive Film School, which was proclaimed the Best World Multi-media in 1998.
More available at: www.rajkogrlic.com.
---
Filmography

Theatrical features films
Director and Screenwriter
2016 THE CONSTITUTION
2010 JUST BETWEEN US
2006 BORDER POST
2002 JOSEPHINE
2001 WHO WANTS TO BE A PRESIDENT (co-director - documentary)
1991 CHARUGA
1989 THAT SUMMER OF WHITE ROSES
1986 THREE FOR HAPPINESS
1984 IN THE JAWS OF LIFE
1981 YOU LOVE ONLY ONCE
1978 BRAVO MAESTRO
1974 IF IT KILLS ME
Producer
2007 HOW OHIO PULLED IT OFF (documentary)
2003 HAPPY KID (documentary)
2001 WHO WANTS TO BE A PRESIDENT (documentary)
1992 VIRDZINA
1991 CHARUGA
Co-screenwriter
1981 EROGENOUS ZONE
1980 PETRIA'S WREATH
1987 EARLY SNOW IN MUNICH
1979 BUDIMIR TRAJKOVIC
1978 THE FRAGRANCE OF WILD FLOWERS
1972 PARTY GAME
Short films
Director and Screenwriter
2009 JOHN "THE BEAR" BUTLER
2002 BOULDER
1999 DRINKABLE WATER AND FREEDOM III
1997 PASTA PAOLO
1991 PARIZI,ISTRA
1987 FAIRY-TALE ABOUT ZAGREB
1986 DRINKABLE WATER AND FREEDOM II
1978 ZAGREB
1974 TELL ME A STORY
1974 DRINKABLE WATER AND FREEDOM I
1971 PREFACE
1970 ALL EAT EACH OTHER
1969 HAMLET
1968 MISUNDERSTANDING
1967 TELL ME SOMETHING NICE
1967 DJURJA
1966 PASS
Producer
1991 AWARD
1991 PARIZI, ISTRA
1990 CONSECRATION
Television
Documentary films - Director and Screenwriter
2004 ROBERTO & PAOLO - feature documentary film
1976 WILD STORIES (6 X 50 Min) - documentary mini series
1971 PRAISES (6 X 30 Min) - documentary mini series
1968 WE FROM PRAGUE - documentary film
1968 ALL MEN ARE GOOD MEN IN BAD SOCIETY - feature documentary film
Co-screenwriter
1975 THE RECKLESS YEARS - (10 X 55 Min) - mini series
Multimedia
Director, Screenwriter and Producer
2004 HOW TO MAKE YOUR MOVIE; AN INTERACTIVE FILM SCHOOL (Second expanded and upgrade edition)
1998 HOW TO MAKE YOUR MOVIE; AN INTERACTIVE FILM SCHOOL (set of three CD-ROM-s)
Books
2003 MOTOVUN: THE BOOK OF GENESSIS - One of three co-writers
2004 FACE TO FACE - Editor