Leo Kulaš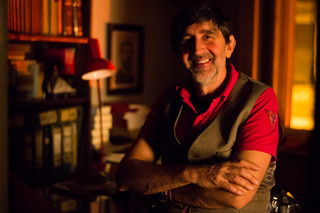 Leo Kulaš, Slovenian set and costume designer, was born on 26 June 1960 in Metković, Croatia. In 1984, he graduated in Painting/Costume Design from the Academy of Applied Arts, University of Belgrade, Serbia.
Working across the countries of the former Yugoslavia, he has created more than 150 costume designs for theatre, ballet and opera productions, receiving numerous awards and prizes (e.g. prize by Croatian Association of Dramatic Artists for costume design in Buzdo and Marul). Cooperating with Robert Ciulli, he has been a regular guest costume designer at Theater an der Ruhr (Germany), and at Paolo Magelli's Teatro Metastasio Stabile della Toscana.
In the first period of his creative activity, he has regularly combined forces with the costume designer Svetlana Visintin. The entire opus of seven Pandur's productions at Slovenian Mladinsko Theatre and Slovene National Theatre Maribor was their joint creation. Highly aestheticized costumes, created and thoughtful to all their splendour and detail, they received several awards and positive reviews. For the costume design in La divina commedia, he was presented, together with Svetlana Visintin, the Maribor Theatre Festival Award in 1993 and the Prešeren Fund Award in 1994.
Throughout his designing in the Slovenian theatre sphere and abroad, he has been working on the staging of classical operas and plays together with a number of renowned directors: Eduard Miler, Diego de Brea, Matthias Davids, Plamen Kartaloff, Janusz Kica, Sandy Lopičić, François Michel Pesenti, Dejan Mijač, and others. Abroad, he has worked in a range of theatres: Theater Dortmund, Thalia Theater Hamburg, Theater Dresden, Sofia National Opera and Ballet, Landestheater Linz, Staatsoper Hannover, etc.
In 2008, Kulaš received his second Maribor Theatre Festival Award for the costume design in Käthchen of Heilbronn, directed by Pesenti and produced at the Slovene National Theatre Drama Ljubljana. With the choreographer Edward Clug, he created costumes for the following ballets: Tango (Reka, Bucharest), Lacrimas, Radio and Juliet, Prêt-à-Porter, Watching Others, Sketches and The Architecture of Silence (Maribor, Essen).
His extremely rich, diverse and productive work is from time to time complemented with productions for the film. He designed costumes for ten Slovenian films, to name a few: Ljubljana je Ljubljena/Ljubljana Beloved, 2005.(directed by Matjaž Klopčić), Blues za Saro/Blues for Sara, 1999.(dir. Bojan Jurjašević), Tretje oko/The Third Eye, 1997.(Bojan Labovič), Moj prijatlj Arnold/My Friend Arnold, 1997. (dir. Boris Jurjaševič), 1996. Junaki petega razreda/The Heroes of Fifth Grade(dir. Boris Jurjaševič), Peter in Petra/Peter and Petra, 1996.(Franc Arko), Carmen, 1995. (Metod Pevec) etc.